"The best part of coming to work is the people."
-Current employee A.H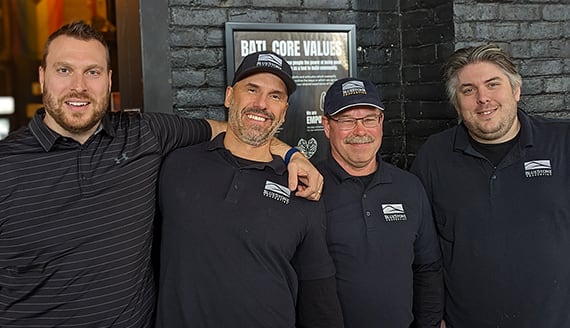 "I love being able to give back to my community while at work."
-Current employee H.K
We embrace our values which enables our team to come to work motivated to do their best.
Employees at BlueStone are rewarded with a thriving workplace culture that encourages growth.
Culture affects every aspect of our business and BlueStone is known for our strong company culture driven by the vision of our founder and cultivated through the generations. Employee recognition is an important driver in the sustaining high levels of engagement and that is why we use the platform Applauz! The platform allows team members to easily recognize each other with meaning and redeemable points.
BlueStone also offers an RRSP plan and bonus structure, tuition subsidies, flex hours, office snacks, free parking, and a Social and Wellness Committee that plans many fun activities.
Core Values
We live and breathe our core values every day. They guide our actions when working with each
other, our tenants, residents, and the community. It is who we are as people.

Work Together
We work as a team. Always.

True Blue
We are dedicated, committed,
engaged and loyal

Own It
We are accountable for our work and
our actions. We get things done!

Community First
We collaborate with our community of tenants,
residents and employees to serve
each other and the environment.

Open & Honest
We are open to change, ideas, and
each other. We are transparent and
honest with respect.

Be Better
We strive for continuous
improvement. Better experiences,
better services, and better products.