About Us
BlueStone Properties Inc. is an award-winning family owned and managed, London based, property management and development company.
For three generations, we have built and maintained quality residential and commercial properties in London, Ontario.
We are dedicated to Building Better Lives, and Better Communities, Through Better Properties.
Our Story
BlueStone Properties is proud to be a London-based Family Business!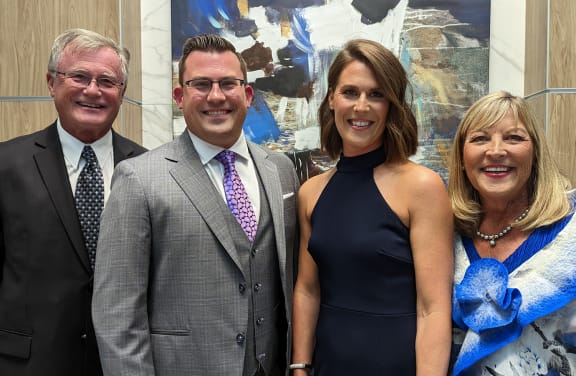 In 1955, Ewald Bierbaum set out to construct his first building, a duplex apartment on Springbank Drive. Around this time, Ewald and Sam Katz set up a partnership known as Esam Construction and developed Cherryhill Village and Westown Plaza Mall. Bernie Bierbaum joined Esam in 1976 and the company continued to grow through the 1980's. In 1986, Ewald and Bernie formed Old Oak Properties as they continued to develop Residential and Commercial properties in the London community.
In 2007, Bernie incorporated BlueStone Properties.
Today, with approximately 70 employees, Bernie, with his wife Susan, along with their son and daughter, Colin and Jaclyn, continue to own and manage BlueStone's portfolio of properties.
Colin has recently taken the reigns as President and Jaclyn is BlueStone's Executive Vice President. The portfolio includes just under one million square feet of commercial and office space shared between their downtown Dufferin Corporate Centre office tower, Meadowbrook Business Campus, 750 Base Line Road East and 80 Bessemer Road. The Residential Portfolio consists of and over 1200 residential units throughout the city at 600 Proudfoot Lane, 695 Proudfoot Lane, 520 Talbot Street Apartments, Oakland Avenue and Platts Crossing and our new property under construction, 101 Base Lane Road West.
Building Better Lives and Better
Communities through Better Properties